Episode 37 – Agnoiology & Remembrance
What does it mean to learn from one's mistakes? Listen in to this week's show to explore the concepts of studying what we don't know and why we don't know it. Then, a selection of cheap and fun things to do next weekend, that you may not have thought of doing. Also, dressing up concrete pillars in the latest fashions. Wait… What?
Podcast available via direct RSS feed –> HERE, or via iTunes –> HERE.
Show Notes:
November 11 is Remembrance Day.   Lest we forget…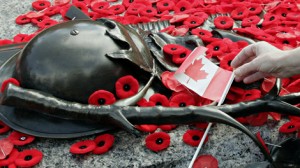 In Flanders fields the poppies blow
      Between the crosses, row on row,
   That mark our place; and in the sky
   The larks, still bravely singing, fly
Scarce heard amid the guns below.
We are the Dead. Short days ago
We lived, felt dawn, saw sunset glow,
   Loved and were loved, and now we lie
         In Flanders fields.
Take up our quarrel with the foe:
To you from failing hands we throw
   The torch; be yours to hold it high.
   If ye break faith with us who die
We shall not sleep, though poppies grow
         In Flanders fields.
-Lt.Col. John McRae
So, um… What on earth is agnoiology or agnotology, anyway?
How to Learn From Your Mistakes – A Wise Bread article by Julie Rains
Is ignorance bliss? How happy is your country? Just kidding… But take a look at the latest list of the happiest countries in the world.
The latest in fashion for your concrete slabs… No. Really!
47 cheap and fun things to do this coming weekend, (again, courtesy Wise Bread).
Need some friends to do these fun things with? Find some at Meetup.com.
Credits:
Music beds courtesy of Music Alley from Mevio and the Free Music Archive. Thanks to artists: ZeroV, Sunsearcher, Gepel, deeB